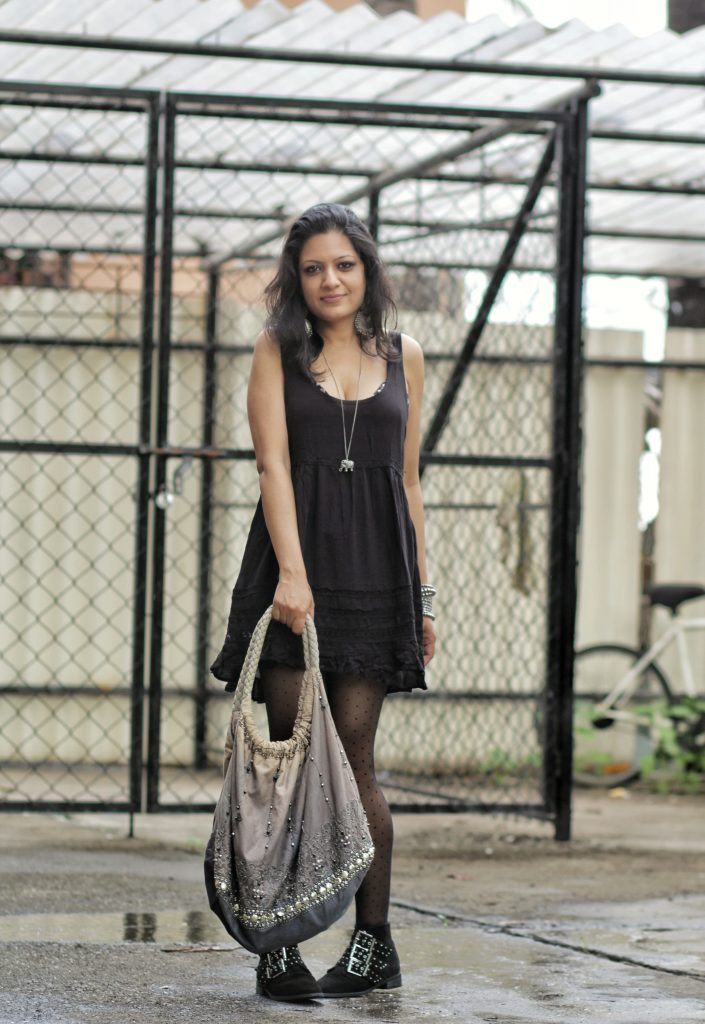 A piece of clothing that you might find very often on my blog is stockings or tights. And why not, I am the breed that can wear stockings the whole year round. Its feminine, has sentimental values, childhood memories, bond with your girlfriends and a lot of Serena and Blair. My girlfriends have to mandatorily bring me stockings from every country they travel. Result – too many with too much love!!!  Honestly, I am a freak with a stockings collection trending or not. However, I feel they have made quite a remarkable come-back, especially the sheer tights. I find it so delicate and comforting. Like it completely validates the existence of the little girl pretty much inside of me. So this look with these see through tights is very delicate but no less outlandish at the same time. Fully aware that the city weather doesn't exactly permit tights!
This one is about the latest addition, the spotted tights from H&M. Complimenting it is a swirl worthy little black dress to sort out a much awaited and exciting Friday night. I just wanted to exhibit the tights in all its splendor with a higher hem line. Somehow, both pieces add mileage to one another to create an alluring effect. The dress was bought online almost three years ago. I had already become a Free People obsessed person by then and this dress from Forever 21 was reminding me of a typical Free People little slip dress so I had to buy it. It's cute, falls freely and has a tinge of bohemia just like a Free People dress. Back then I was obsessing over slip dresses.
Another mesmerizing feature of the outfit is the addition of statement earring and an embellished bag. Both pieces are very striking yet the simplicity of the black dress keeps the look so minimalistic. Statement earrings are something that I am reaching out for again and again. Fell in love with them as much as I was falling in love with Lucy Hale's character Aria Montgomery who sported it with such ferocity on the show Pretty Little Liars. I also feel that these are pretty much a 2018 trend and was not surprised to find such a beautiful collection at Asos. Many of them look heavy but infact are really light and easy to carry. So for me the statement earrings have been like the bigger the better kinda thing lately. Even quirkier too.
The embellished hobo bag and metal bracelets are just a match your accessories thing here. The silver studs are just a match to the spots on the tights. I selected a long chain with an elephant pendant to stretch the minimalistic aspect further and to keep an element of bohemia into the look. Since the earrings are pretty large, I have opted for a very dainty necklace. With supersize earrings I would opt for a very tender necklace or no necklace at all.
All these pieces together created the look I much desired. However, tights as a fashion accessory will always reign supreme in my heart.
I am wearing-
Forever 21 dress; H&M spotted tights; Topshop boots; Accessorize cuff, necklace & embellished bag; Pieces bracelet strands; Asos earrings
Photo by: Pradip Hazarika (instagram: pradiphazarikaphotography)