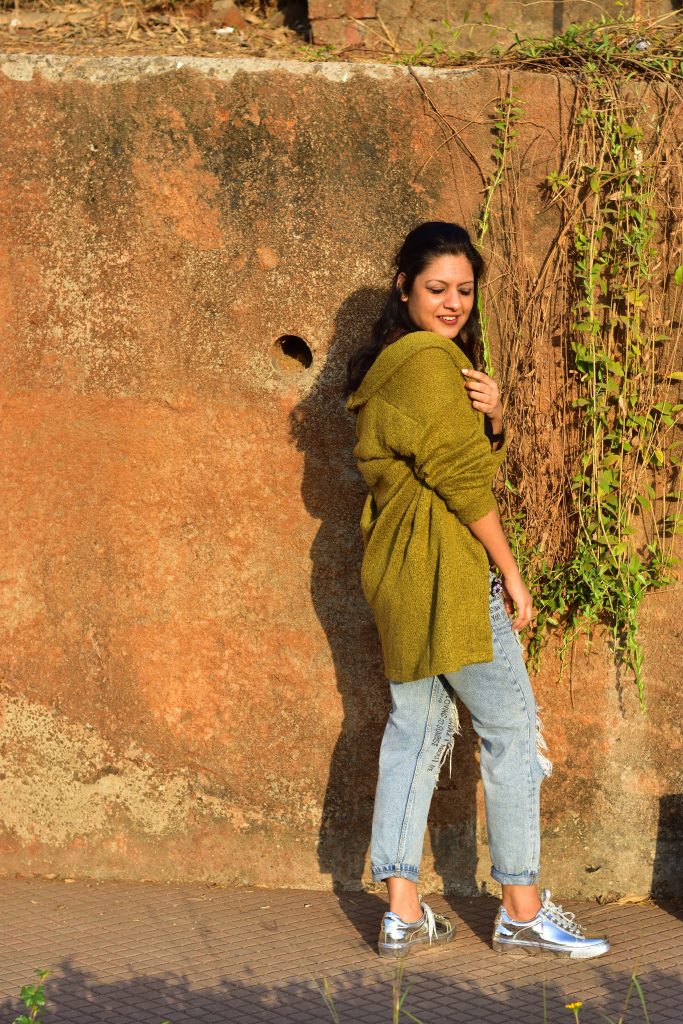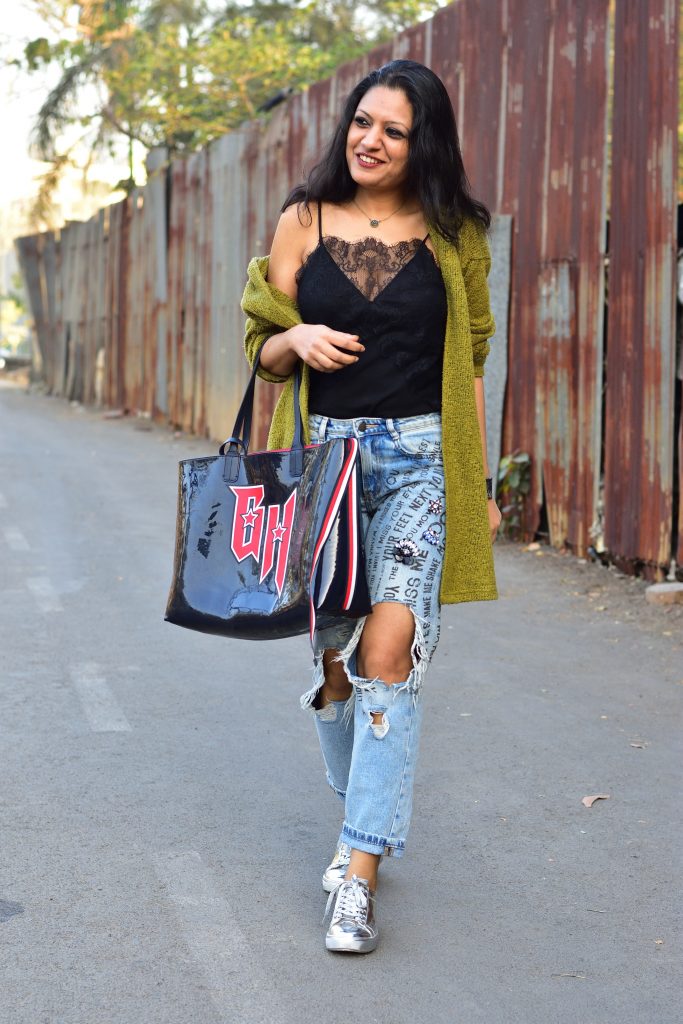 Denims are a pretty much the backbone of our wardrobes. So it's finally here – A post on boyfriend fit distressed jeans. A boyfriend in my closet! A boyfriend fit can be so relaxing and if the same comes as distressed, it is always so cool. Unfortunately, one has to wear it right. There is something inherently sexy about basic wear so I like to combine my jeans with a regular spaghetti top. This black one has got the lace details and I think lace and distressed are a union of chic. I feel a distressed boyfriend fit jeans will truly never go out of style. I am creating this look for a casual off-duty day out kinda look.  No better street style than distressed denims!
These pair of jeans however features more than just 'distressed'. It's got something written on them and is lightly embellished. I frankly haven't read what's written on them but the embellishments add a totally feminine spin to the denims. I love the rough and feminine so well balanced and surprisingly easy to wear. These pair of jeans comes with a classic mid-rise fit and I prefer folding them for that cute crop at the ankle. These jeans are ripped at the perfect places and I find the raw and edgy look absolutely stunning. My brand new silver sneakers are indeed an ideal pairing with my jeans. I feel they make the look perfect for a gig night.
Now, I can't wait to speak about my bag. A large tote has been pretty much a part of my everyday life. Well this one is a wonder. A Tommy Hilfigur bag from their Gigi collection is in my possession. Was lucky to get this one on sale! What more? Its navy and I simply love how the initials GH pop out in red. This bag is my favourite and I haven't used it much. Destroyed denims look way too casual so I like to pair them with more polished pieces. I didn't feel the need to accessorise too much so just a black cuff with the paint chipping off and a very dainty neck-piece did it all. Finally, time to say goodbye to the sweater weather for this year. My next post will probably not have anything warm as I am gearing up for the warmer times ahead. So I am gonna wind up my last February post with a beautiful cardigan.  I love this mid-length olive green cardigan that had the perfect name for the occasion – 'Sunday Morning Cardigan'. And it was a Sunday morning shoot!
I am wearing-
Zara jeans and spaghetti top; Steve Madden sneakers: Tommy Hilfigur bag; Urban Outfitters cardigan; Promod cuffs & neck piece
Photo by: Soumyadri Chattopadhyaya (insta: soumyadri)