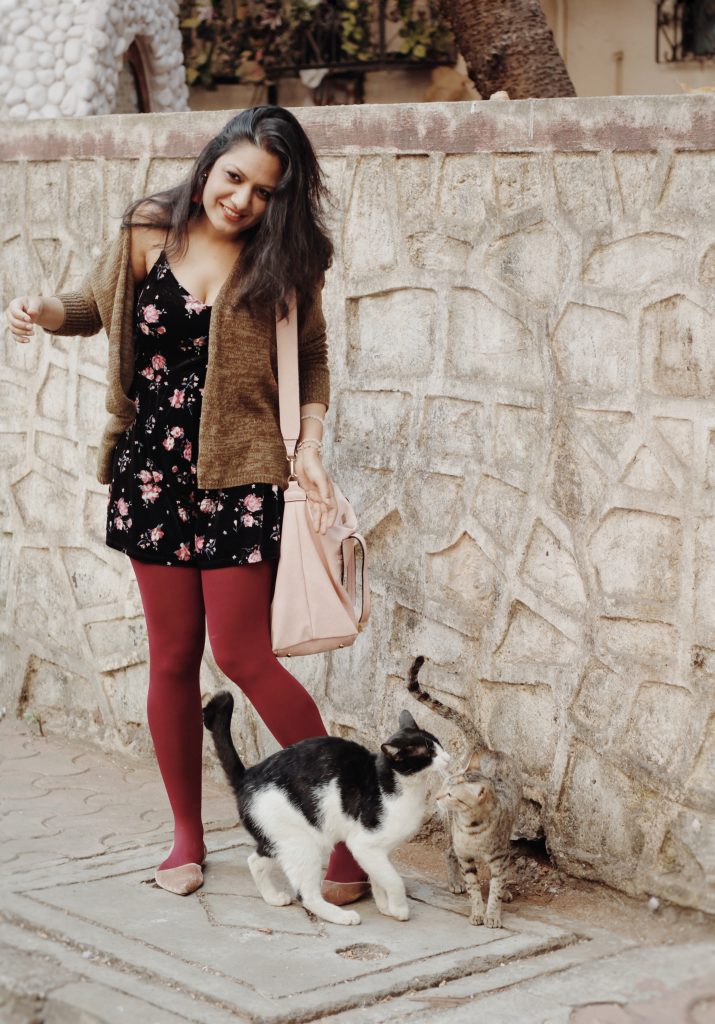 Velvet has made its presence known in the last couple of seasons with complete vigor. Its electrifying opulence and luxurious feel are reminiscent of a bygone era emitting grandeur in the most elegant way. Rich and perfect for cool weather, a fabric that more often forms an integral part of home décor has fast found its way into our wardrobes. Day or night, it fits the bill for many occasions. It is most endearing that the fabric has very much transformed into a round-the-year kinda thing. Designers have most certainly given this fabric a fun twist with the right amount of experimentation. Just like I felt while slipping into this mini velvet number from H & M.  Its strappy, floral and black and bears one of my favorite necklines. Basically, all things that look stunning in velvet. The play-suit is tailored to perfection and it was hard not to fall for it in the first instant.
My brand new burgundy tights are all that I need to take the playful message from head to toe. Another noteworthy feature of the look is the pairing of these blush coloured pointy velvet flats. I feel that pointy flats have made quite a come-back and have made a strong presence in the footwear domain in the recent past. They are such a perfect alternative to other flat shoes. These are ultra-light and practically go with anything. I have carried them around in my bag and have switched them for high heels once my heels start to hurt badly. I think they look particularly cute with mini dresses and skirts. Surely I need to add more of these to my shoe closet as I am kinda getting used to the duality to comfort with chic. Nothing beats the ease and comfort of flats and it seems like the sidewalk has turned into a runway in this post.
I am also sporting my burgundy tasseled earrings that go so tastefully with this look. Look around and tassled earrings have been such a strong trend for a while now.  I also find myself reaching out over and over again for this blush colour bag with a long strap. The black and burgundy form a perfect backdrop to the blush. I am enjoying the sweater weather and strengthening my determination to make the most of it. I know I have to say goodbye to all my cardigans and tights real soon. But until that time, I have layered my looks with various pieces this season and cardigans are a hot favourite. I am simply throwing over this warm, oversized one in olive green from Urban Outfitters to complete this look.
I am wearing-
H&M play-suit, shoes and earrings; Urban Outfitters cardigan; Vero Moda bag; Ettika bracelet
Photo by: Pradip Hazarika (instagram: pradiphazarikaphotography)