I am really behind on the food section of Sue's Project. I had to start somehow. Not being so good at photography has been a major reason for such slack. I have now resolved to come up with a food post regularly and also hone my photography skills simultaneously. Seems like the only way forward. Maybe I'll take baby steps. I am very keen on creating mini meals before I go all out and cook elaborate dishes. So after more than a year, I am posting this Cheese and Chorizo toastie that I recently put together on account of a midnight hunger pang in the middle of a Netflix movie. The result however was a delightful surprise. Needless to say that creating something with a few ingredients that by luck happen to be in your fridge at an odd hour can be lifesaving.
Sandwiches are the most classic mini meals and you can absolutely get imaginative with what shall go between the breads. This one is nothing but some chorizo, red cheddar and spring onion for that 'something green' effect. All ingredients layered together and grilled on a regular pan. I have used store bought chorizo (classic Spanish) and have sautéed it a bit so that it gets nice and crumbly. But care to not overdo it. If it gets too crumbly, won't be easy to layer. In case you use a smoked one, you can skip this process all together. Just grate it, mix it with the cheese and layer it. I have used a regular brown bread for these sandwiches. You could use any that you prefer. I put a generous amount of cheese in the sandwich that helps the sandwich hold together with the chorizo once melted. Once layered, I put the sandwiches in the pan with a little butter. I make sure to put the lid on the pan that helps the cheese to melt. I make sure that both sides have browned nicely and that the best part coz it makes the sandwiches super crunchy. The cheese and chorizo combine beautifully and the sprinkled spring onion adds such twist to the flavours. Do try!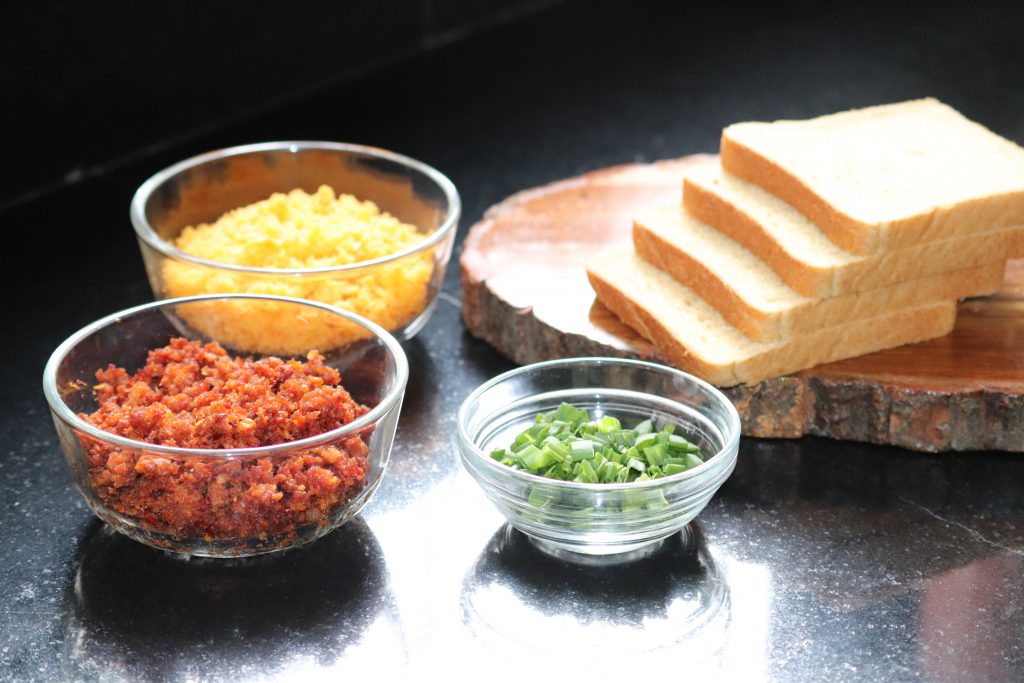 Ingredients:
4 slices brown bread
2 chorizo sausages (mashed and sauteed)
100 grams red cheddar
A bunch of freshly chopped spring onions (green part)
Butter for grilling
Method:
Remove the chorizo from the casing, mash it and sauté it a bit till it becomes crumbly.
Now layer the slices of bread with the chorizo and grated cheddar and sprinkle the green onions.
Heat the pan and add a little butter. Place the layered sandwiches and put the lid on helping the cheese to melt. Make sure the sandwiches have browned from both sides.