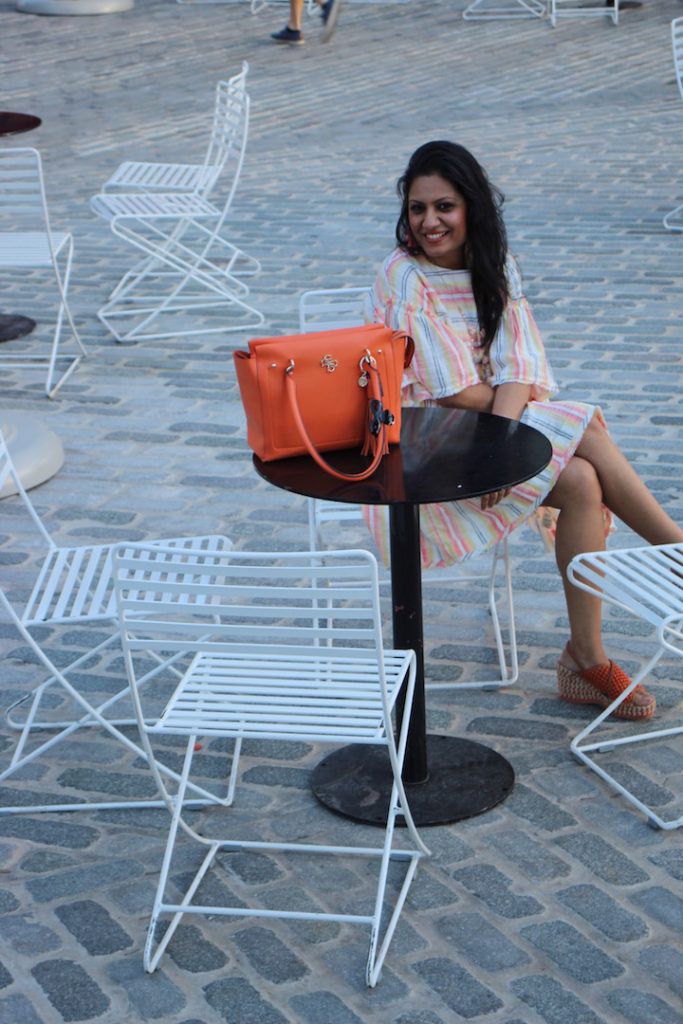 The Meatpacking District happens to be a popular photoshoot spot in NYC because of its unique cobbled street. It is truly gorgeous and it is also famous as Samantha's neighbourhood in Sex & The City. So much fun to walk around and shoot at the same time. Its full of cute cafes, grills, bakeries and designer stores. The roads are wide and the streets are full of sitting spaces on the sides and a whole lot of chatter! I wish I could discover more.
I am wearing an oversize striped multicolour dress by Free People. I totally love the oversize trend, especially in linen. I got it at 25 dollars at Macy's!! It was a windy day and my hair was such a mess. We found suitable spots and I was thrilled to be able to pull it off. Discovered some accessory designers at Macy's too. A refreshing change from my usual Accessorize and a few other brands. My orange bag and shoes also came at a deal at Macy's and I think they are making one hell of a statement. So what do you think about the look?
People are so sweet in this city. This is a place where I did not feel conscious about doing a shoot. People only smile and compliment. Always compliment! Sometimes, I would just stop by and sit. The smile is one of ease and discovery. Smiling at strangers with whom you would never cross paths again. Smile of being a stranger yourself. Smile of not being judged. Smile of cheer, smile so natural so spontaneous that its unthinkable to stop. Just keep smiling Sue. There was a voice that kept saying: just keep smiling Sue.
I am wearing –
Free People dress; Donald/Pliner shoes; Guess bag; Pannee earrings; I.N.C. necklace & bracelet
Photo by –
Samuel Roberts (insta: samuelrobertsphotography)