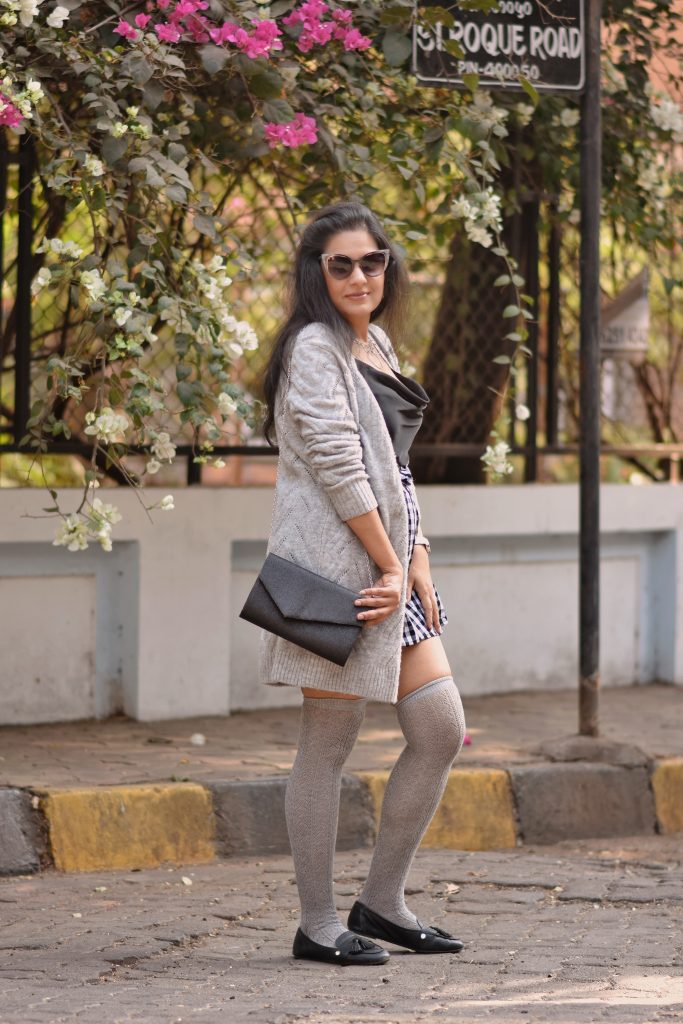 There is no denying that I have a fetish for school girl fashion. That is because I believe there are ways to pull it off without being much of a cliché. I am bringing yet another look with a classic checkered mini skirt combined with a satin cowl neck top, knee length cardigan and a pair of over-the-knee socks. This look is actually about a powerful element of the school girl fashion – over-the-knee socks. Clearly, over-the-knee socks have been a season must-have and they immensely aid in recreating some preppy teenage looks.
The matching knee length cardigan with some bold metallic accessories reforms this look into something that is ordinarily wearable while keeping the focus on the socks intact. Of course, the idea behind adding the cardigan was also aimed at keeping the upper part of the outfit a little conservative and the very fact that the socks are essentially a winter staple. I have finished the look with a tiny purse and some regular leather flat shoes. The look seemingly veers into the past and is reminiscent of the 90s era. The look exudes all the vibes that still remain cemented within the chic flicks, pop culture and the rising popularity of certain music genres such as punk and grunge of those times. I get so nostalgic by the very mention of the 90s.
Well, fashion keeps reinventing itself and time and again we witness a leaflet pulled out from the fashion history books. What is challenging and fun at the same time is reworking the elements of the past with some trends that make it more fitting in the current times. I seem to have majorly developed an interest in the 90s fashion and I am in a constant quest to discover more so that I can create more looks inspired by the 90s. After all, I was a 90s teen – a very a strong reason for me to venture into the 90s fashion! Probably, also because I have the urge to wear or dress in certain ways with certain outfits that I actually never get to. I admit it. Denial is not my style. In any case, when I look around, the presence of the 90s fashion in today's times seems pretty palpable.
Lulu & Sky skirt; Vanity Room cami; Forever 21 socks; Accessorize bag, Aldo shoes & sunglasses; Urban Outfitters necklace; Zara earrings
Photo by –
Sanket Kashid (insta: photo.by.sank)